B2 井村祐己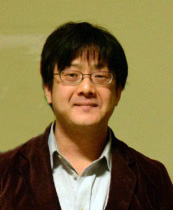 経歴
平成16-20年 東京大学農学部
平成20-22年 東京大学大学院農学生命科学研究科(修士)
平成22-23年 東京大学大学院医学系研究科(中途退学)
平成23年   日本学術振興会特別研究員(DC1)
平成23-26年 東京大学大学院農学生命科学研究科 特任助教
平成26-29年 東京大学大学院農学生命科学研究科 助教
平成29年   大阪大学医学部二年次学士編入
代表的な研究実績
1) Imura Y., et al. A microfluidic system to evaluate intestinal absorption. Anal. Sci. 25, 1403-1407 (2009).
2) Imura Y., et al. Micro total bioassay system for ingested substances:assessment of intestinal absorption, hepatic metabolism, and bioactivity. Anal. Chem. 82, 9983-9988 (2010).
3) Imura Y., et al. Micro Total Bioassay System for Oral Drugs: Evaluation of Gastrointestinal Degradation, Intestinal Absorption, Hepatic Metabolism, and Bioactivity. Anal. Sci. 28, 197-199 (2012).
4) Lim G.G.F., Imura Y., et al. Substrate Inhibition Competes with Halide Inhibition in Polyphenol Oxidase. Protein J. 31, 609-614 (2012).
5) Imura Y., et al. Microcirculation system with a dialysis part for bioassays evaluating anticancer activity and retention. Anal. Chem. 85, 1683-1688 (2013).
6) Ariga T., Ito K., Imura Y., Yoshimura E., High-performance liquid chromatography method for ferric iron chelators using a post-column reaction with Calcein Blue. J. Chromatogr. B. 985, 48-53 (2015).
7) Yasuda D., Imura Y., et al. The atypical N-glycosylation motif, Asn-Cys-Cys, in human GPR109A is required for normal cell surface expression and intracellular signaling. FASEB J. 29, 2412-2422 (2015).
8)Ariga T., Imura Y., et al. Determination of ferric iron chelators by high-performance liquid chromatography with chemiluminescence detection using luminor. J. Chromato. B, 1014, 75-82 (2016).
9) Yoshimura K., Kosugi C., Imura Y., et al. Sample preparation of the macro alga (Pyropia yezoensis) for the determination of messenger RNA. Anal. Lett., 49. 2851-2863(2016).
10) Imura Y., et al. Citrate as a possible iron-pooling substance in the marine diatom Thalassiosirapseudonana. Mar. Biol.163, 138-143 (2016).
11) Kikuchi F., Kato Y., Furihata K., Kogure T., Imura Y. et al., Formation of gold nanoparticles by glycolipids of Lactobacillus casei. Sci. Rep. 6., 34626-34633(2016).
12) Yamaguchi T., Tsuruda Y., Furukawa T., Negishi L., Imura Y., et al., Synthesis of CdSe Quantum Dots Using Fusarium oxysporum. Materials 9. 855-866(2016).
抱負
今までの研究経験を生かしつつ、イメージングで新しい発見をできればと思います。
趣味
美術館めぐり、カメラ