特任助教 内田 穣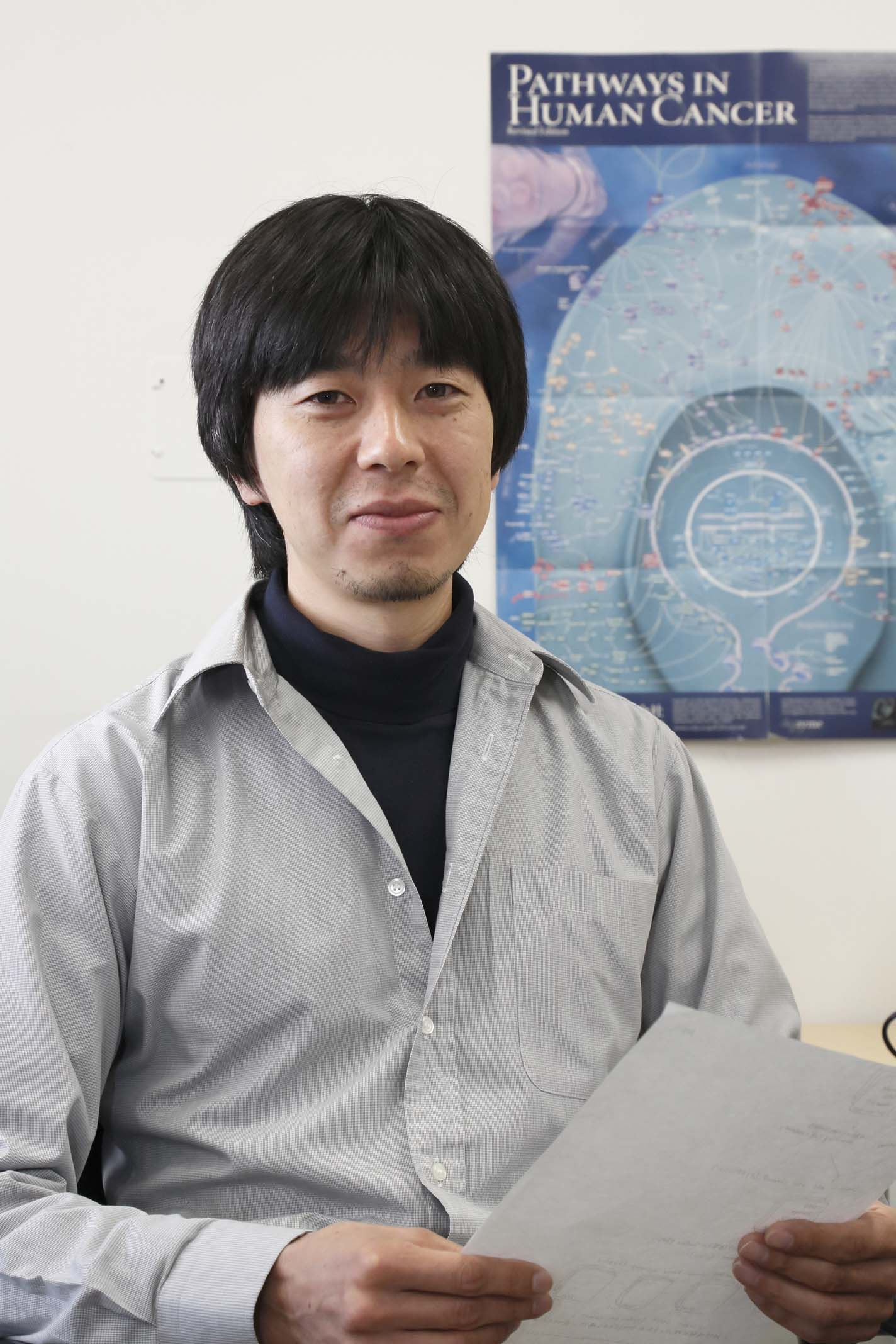 経歴
1997-2001 東京薬科大学生命科学部分子生命科学科
2001-2003 横浜市立大学大学院医学研究科修士課程
2003-2007 横浜市立大学大学院医学研究科博士課程
2007-2008 横浜市立大学 文部科学省「魅力ある大学院教育」イニシアチブ選定取組
          「臨床治験推進リーダー養成プログラム」特任助教

2008 Apr. -
2008 Oct. 横浜市立大学大学院医学研究科 分子薬理神経生物学教室 博士研究員
2008-2013 米国国立衛生研究所 米国国立心臓•肺•血管研究所 Visiting Fellow
2013-2016 米国国立衛生研究所 米国国立心臓•肺•血管研究所 Research Fellow
2016- 大阪大学大学院医学系研究科 特任助教
研究テーマ
イメージング後の一細胞をラベルしてRNAを回収する技術の開発
代表的な研究業績
Research Papers
1. Yamazaki T, Nalbandian A, Uchida Y, Li W, Arnold TD, Kubota Y, Yamamoto S, Ema M, Mukouyama YS. (2017) Tissue Myeloid Progenitors Differentiate into Pericytes through TGF-β Signaling in Developing Skin Vasculature. Cell Rep. 18:2991-3004.
2. Fatima A, Wang Y, Uchida Y, Norden P, Liu T, Culver A, Dietz WH, Culver F, Millay M, Mukouyama YS, Kume T. (2016) Foxc1 and Foxc2 deletion causes abnormal lymphangiogenesis and correlates with ERK hyperactivation. J Clin Invest.126:2437-51
3. Nohata N, Uchida Y, Stratman AN, Adams RH, Zheng Y, Weinstein BM, Mukouyama YS, Gutkind JS. (2016) Temporal-specific roles of Rac1 during vascular development and retinal angiogenesis. Dev Biol. 411:183-94
4. Sandeep N, Uchida Y, Ratnayaka K, McCarter R, Hanumanthaiah S, Bangoura A, Zhao Z, Oliver-Danna J, Leatherbury L, Kanter J, Mukouyama YS. (2016) Characterizing the angiogenic activity of patients with single ventricle physiology and aortopulmonary collateral vessels. J Thorac Cardiovasc Surg. 151:1126-1135
5. Uchida Y, James JM, Suto F, Mukouyama YS. (2015) Class 3 semaphorins negatively regulate dermal lymphatic network formation. Biol Open. 4:1194-205
6. Nakamura F, Kumeta K, Hida T, Isono T, Nakayama Y, Kuramata-Matsuoka E, Yamashita N, Uchida Y, Ogura K, Gengyo-Ando K, Mitani S, Ogino T, Goshima
Y. (2014) Amino- and carboxyl-terminal domains of Filamin-A interact with CRMP1 to mediate Sema3A signalling. Nat Commun. 5:5325
7. Nam J, Onitsuka I, Hatch J, Uchida Y, Ray S, Huang S, Li W, Zang H, Ruiz-Lozano P, Mukouyama YS. (2013) Coronary veins determine the pattern of sympathetic innervation in the developing heart. Development. 140:1475-85
8. Li W, Kohara H, Uchida Y, James JM, Soneji K, Cronshaw DG, Zou YR, Nagasawa T, Mukouyama YS. (2013) Peripheral nerve-derived CXCL12 and VEGF-A regulate the patterning of arterial vessel branching in developing limb skin. Dev Cell. 24:359-71
9. Mukouyama YS, James J, Nam J, Uchida Y. (2012) Whole-mount confocal microscopy for vascular branching morphogenesis. Methods Mol Biol. 843:69-78
10. Cunningham K, Uchida Y, O'Donnell E, Claudio E, Li W, Soneji K, Wang H, Mukouyama YS, Siebenlist U. (2011) Conditional deletion of Ccm2 causes hemorrhage in the adult brain: a mouse model of human cerebral cavernous malformations. Hum Mol Genet. 20:3198-206
11. Wang H, Ge G, Uchida Y, Luu B, Ahn S. (2011) Gli3 is required for maintenance and fate specification of cortical progenitors. J Neurosci. 31:6440-8
12. Nakamura F, Ugajin K, Yamashita N, Okada T, Uchida Y, Taniguchi M, Ohshima T, Goshima Y. (2009) Increased proximal bifurcation of CA1 pyramidal apical dendrites in sema3A mutant mice. J Comp Neurol. 516:360-75
13. Uchida Y, Ohshima T, Yamashita N, Ogawara M, Sasaki Y, Nakamura F, Goshima Y. (2009) Semaphorin3A signaling mediated by Fyn-dependent tyrosine phosphorylation of collapsin response mediator protein 2 at tyrosine 32. J Biol Chem. 284:27393-401.
14. Yamashita N, Morita A, Uchida Y, Nakamura F, Usui H, Ohshima T, Taniguchi M, Honnorat J, Thomasset N, Takei K, Takahashi T, Kolattukudy P, Goshima Y. (2007) Regulation of spine development by semaphorin3A through cyclin-dependent kinase 5 phosphorylation of collapsin response mediator protein 1.  J Neurosci. 27:12546-54
15. Yamashita N, Uchida Y, Ohshima T, Hirai S, Nakamura F, Taniguchi M, Mikoshiba K, Honnorat J, Kolattukudy P, Thomasset N, Takei K, Takahashi T, Goshima Y. (2006) Collapsin response mediator protein 1 mediates reelin signaling in cortical neuronal migration. J Neurosci. 26:13357-62
16. Morita A, Yamashita N, Sasaki Y, Uchida Y, Nakajima O, Nakamura F, Yagi T, Taniguchi M, Usui H, Katoh-Semba R, Takei K, Goshima Y. (2006) Regulation of dendritic branching and spine maturation by semaphorin3A-Fyn signaling. J Neurosci. 26:2971-80
17. Uchida Y, Ohshima T, Sasaki Y, Suzuki H, Yanai S, Yamashita N, Nakamura F, Takei K, Ihara Y, Mikoshiba K, Kolattukudy P, Honnorat J, Goshima Y. (2005) Semaphorin3A signalling is mediated via sequential Cdk5 and GSK3beta phosphorylation of CRMP2: implication of common phosphorylating mechanism underlying axon guidance and Alzheimer's disease. Genes Cells. 10:165-79
18. Sasaki Y, Cheng C, Uchida Y, Nakajima O, Ohshima T, Yagi T, Taniguchi M, Nakayama T, Kishida R, Kudo Y, Ohno S, Nakamura F, Goshima Y. (2002) Fyn and Cdk5 mediate semaphorin-3A signaling, which is involved in regulation of dendrite orientation in cerebral cortex. Neuron. 35:907-20
Review (in Japanese)
1. Uchida Y and Goshima Y. (2005) Molecular mechanism of axon guidance mediated by phosphorylation of CRMP2. Seikagaku. 77:1424-7
抱負
技術開発へのチャレンジを通じてイメージング技術の発展に貢献できたらと思っています。
趣味
スポーツ観戦(アメフト、アイスホッケー、テニス)